Painful Tailbone (Coccydynia)
Usually related to some traumatic event where the patient has landed quite heavily on their buttocks resulting in severe pain at the tip of the tail-bone(coccyx).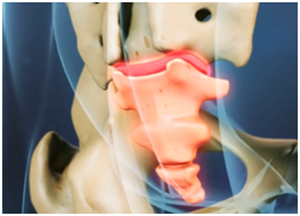 Symptoms
Localized to the tip of the coccyx. It does not radiate into the lower extremities or the pelvis.
Increases with sitting on hard surfaces
Increases when rocking forwards to transfer from sitting to standing position
May increase during sexual intercourse or bowel motion
Causes
Direct trauma
Fracture/dislocation of the tip of coccyx
Hypermobile sacro-coccygeal joint
Tumours
Non-surgicalTreatment
Anti-inflammatories
Analgesia
Local steroid block
Hot/Cold packs

Special cushions
SurgicalTreatment
For persistent pain that is not alleviated with non-surgical treatment and/or activity modification, surgical removal of all or a portion of the coccyx (coccygectomy) is an option.
Coccygectomy surgery is rarely recommended and performed. While the surgery itself is a relatively straight-forward operation, recovery from the surgery can be a long and uncomfortable process for the patient.