Basilar invagination
Basilar invagination is an abnormality at the craniovertebral junctionresulting in the odontoid prolapsing into the already limited space of the foramen magnum. While frequently seen in rheumatoid arthritis, it more commonly presents in a myriad of congenital conditions (eg Chiari malformation, syringomyelia, Klippel-Feil syndrome, and hydrocephalus). Clinical presentations can range from chronic headaches, limited neck motion, and acute neurological deterioration.
Diagnosis
Both CT and MRI are critical to the diagnosis and management of this condition. In the asymptomatic patient, operative intervention is controversial. For those patients who are symptomatic, surgical correction may require preoperative cervical traction, and posterior-anterior decompression and fusion.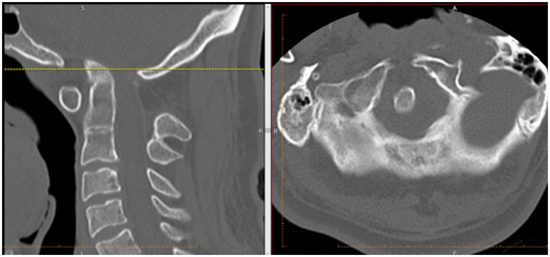 Treatment / Management
Criteria for the treatment of basilar invagination has not been well described, and treatment preoperative the neurological status of the patient. For patients who present with neurologic deficits, surgical intervention may be required to attempt to improve symptoms and to prevent the progression of neurologicaldeficits.
Preoperative skull traction may be of some value to achieve some reduction of the invagination before surgery commences. Surgical decompression may be achieved by an anterior transoral or a posterior decompression followed by an occipito-cervical stabilization.
Ultimately, the approach should be made on a case by case basis after a thorough evaluation of clinical findings, plain cervical radiographs, and MRI findings.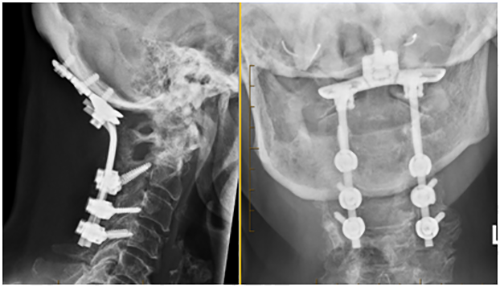 Prognosis
While surgery can improve some neurological symptoms, complete recovery is not always possible. Residual neurological deficits are common and in some cases, may be disabling.
Complications
Transoral approach
Damage to eustachian tube and hypoglossal nerve.
Bleeding
Severe tongue swelling
Palatal and pharyngeal dehiscence
Retropharyngeal abscess
Neurological worsening
Aspiration
CSF leak
Meningitis
Delayed pharyngeal bleeding
Craniovertebral junction instability
Complications of craniovertebral junction fusion surgery
Neurological worsening
Vertebral artery injury
Bleeding from vertebral venous plexus
Craniovertebral junction instability
Cord oedema
CSF leak
Meningitis
Nonunion
Hardware failure
Sudden death